Mission Statement
The Personnel Testing Council of Southern California (PTC-SC) serves as a forum for the discussion of current trends in personnel selection and testing while advocating fair and non-discriminatory employment practices and encouraging valid selection and testing methods.
---
Call for Nominations!
Are you interested in learning more about PTC-SC and take part in event planning and decision-making process? PTC-SC is accepting nominations for next year! Contact Jung Park, President-Elect, at park_jungeun@lacoe.edu for more info!
---
Register for 2017 PTC-SC Conference Today!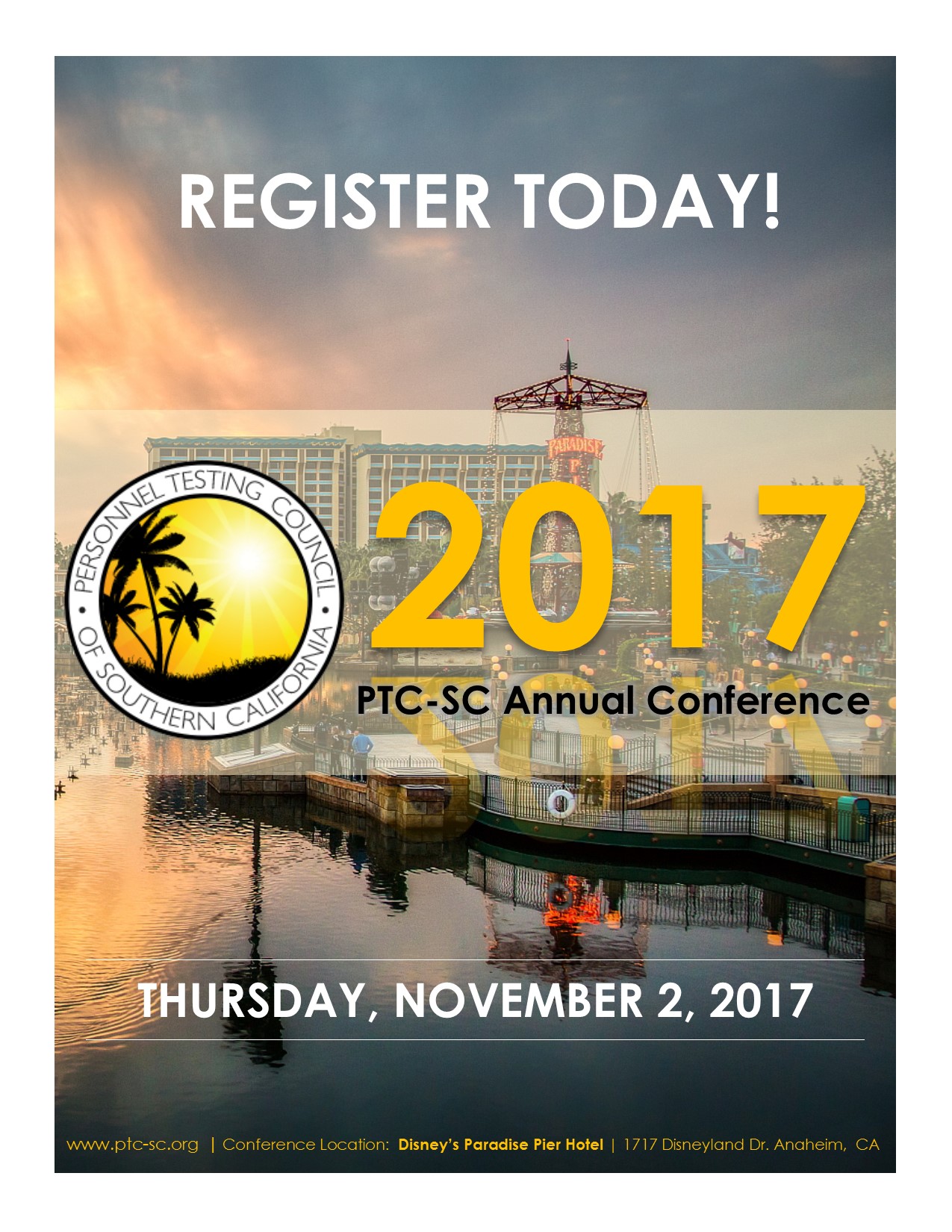 Our annual conference will be held at Disney's Paradise Pier Hotel on November 2, 2017 (Thursday). Early bird registration deadline is October 15, 2017. For more info and to register online, visit our Annual Conference page.
---
Renew your membership for 2018
today

!

Continue to stay connected to our valuable network and renew your PTC membership!

NEW!  Renew Membership and Pay Your Dues With PayPal

Don't want to download a form and mail it back with payment? You don't have to any more. On our Membership page, you can simply select your membership type and complete PayPal payment for your membership online. Once you finish your payment, you will be returned to the Membership page to complete the member registration process online – no forms to print or mail! You do not need to have a PayPal account to pay us using PayPal.
---
Help PTC-SC Keep In Touch With You
Are you a member or friend of PTC-SC? Do we have your current email address? Email is our primary way of keeping in touch with you besides this website. Please keep your email address current so that you continue to receive announcements regarding our luncheons, conference and other important events. Send changes to Joleen Bourne, Treasurer, or to Jessica Landin, Co-Vice President of Communications.